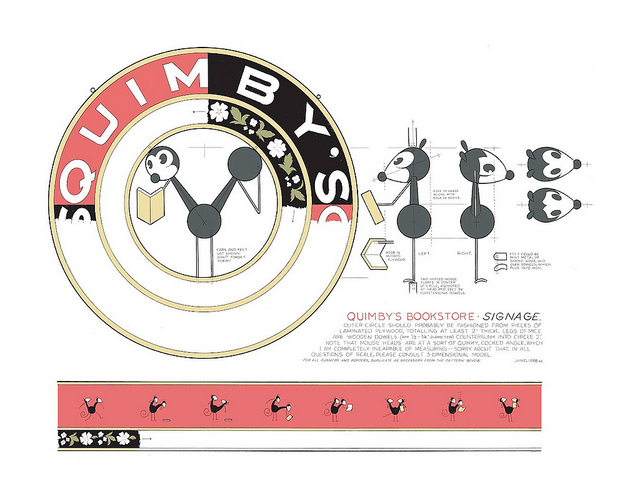 One of the reasons I love
Quimby's Bookstore
is that all the signage was made by
Chris Ware
, one of my favorite cartoonists. I first encountered his work when it started appearing in
RAW
and in Chicago's
Newcity
newspaper in the early 90's. His meticulous line work, tragicomic stories, and subtle use of color and varied printing techniques were exciting to encounter at the time. They also hinted at the vast amount of time Chris devoted to producing his artwork.
I started going to Quimby's soon after they opened at their original location on Damen Ave in Wicker Park. Part of the adventure of getting to Quimby's was dodging the weirdos by the Blue Line train station and the people offering drugs by the park near the store. Quimby's was the reason I was in that neighborhood, which introduced me to a whole new world of DIY artist's spaces and galleries.
Quimby's carried (and still does) a vast array of magazines, books, and comics that weren't available anywhere else in the city. This treasure trove was the reason I would trek so far on the bus. I still have a great,
tiny self-published comic
that Chris sold on consignment at the shop.
Quimby's Bookstore is celebrating their 20th anniversary this year. One of the ways they're commemorating this occasion is with the release of a five-color silkscreen print depicting the blueprint for their store's sign.
photo by Oscar Arriola
Designed by Chris Ware and printed by Jay Ryan of
The Bird Machine
, this print shows you the amount of effort that was put into designing the sign. It's been printed in an edition of 500, is 13" x 19", and is available through Quimby's
here
. Signed prints will also be available in the near future.
T-shirts and tote bags are also now available
here
with the Quimby's store logo.
Quimby's Bookstore
1854 W North Ave
Chicago, IL