Australia's
CUPCO
decided to produce several pairs of Gilbert and George dolls after viewing a documentary on the British artists. Soon after making these handmade figures, he heard they were coming to Australia, so he was able to present them with a pair of their very own. The dolls come with one poop each, in honor of Gilbert and George's portrayal of bodily fluids in their artwork.
Gilbert and George
are a pair of British artists who have been producing work together since they first met in art school in the late 60's. They're well known for their large scale photo-based artworks composed of grids of black and white pictures painted over with solid colors.
These are some examples of their work...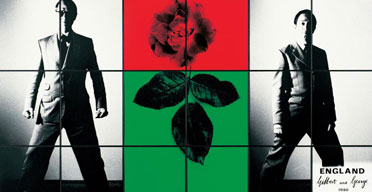 Here are Gilbert and George with their plush likeness...
And here's an article on the whole encounter from the Sydney Morning Herald...
ART DUO'S 'CRAP' GIFT

ENGLISH artists Gilbert & George, famous for their "crap art", pose an interesting challenge in the gift-giving stakes. What does one give such eccentric artists, brought to Sydney by the arts patron John Kaldor, and whose work features many – ahem – unseemly elements?

However, for the Sydney artist Luke Temby, who has created something a cult following for his plush dolls, depicting everyone from suicide bombers to Kevin Rudd, it wasn't a challenge at all.

"I was watching a documentary about Gilbert & George towards the end of last year … and was really inspired by how funny and crazy and weird and fun they were," said Temby, who went on to create a series of dolls in their honour, complete with their own mini piles of replica poo made of felt.

Gilbert & George received their gift yesterday, just ahead of Valentine's Day.
Check out more from the world of CUPCO
here
and examples of great pieces from his recent show at Pennsylvania's
Metropolis
Gallery
here
.