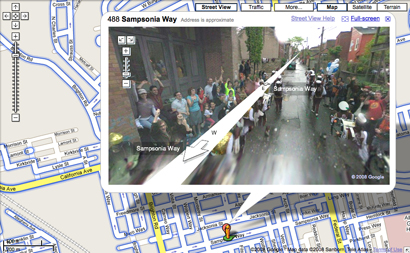 Artists Robin Hewlett and Ben Kinsley recently unveiled an interventionist collaboration they did with Google and Pittsburgh's
Mattress Factory
entitled,
Street with a View
. The Mattress Factory, which specializes in showing installation art, and its surrounding neighborhood were the backdrop for this project. Pittsburgh residents staged situations along area streets while Google's Street View team photographed them for inclusion into their Google Maps Street View function. Incorporating various scenes including a marathon, a garage band practicing in a garage, and a parade, I think the most hilarious ones were the firemen rescuing a cat piñata from a tree on Fireman Way
, and two men fighting with medieval swords in an empty lot. I also liked
this view
of a bedsheet escape ladder from a bedroom window.
This giant chicken also made it down for a visit from Milwaukee.