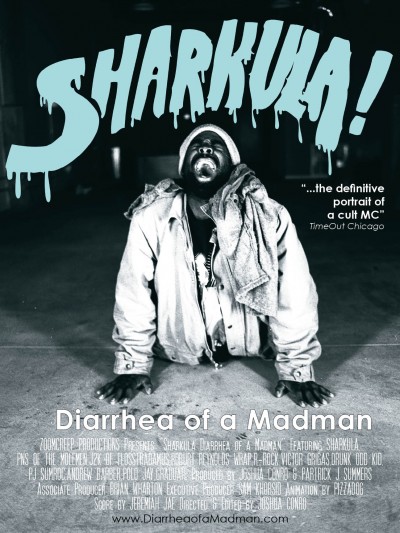 Chicago's infamous MC Sharkula aka Thig is the subject of a
new documentary
by director Joshua Conro. Being screened tonight as part of the Black Harvest International Festival of Film and Video, this film promises to shed some light on Thig's life as well as showcase some of his performances.
Info from the film's site...
Free association is the modus operandi for this free-form documentary covering the artistic career of free-as-a-bird local rapper/DJ/graffiti artist/street hustler Brian Wharton, known variously as Sharkula, Thigamahjigee, Thig, Force Face, Cumberjack, Action Blackson, or by a host of other pseudonyms. Thig does his thing, as only he can, peddling his homemade recordings, break-dancing, and reciting the free-associative poetry that is his trademark, while finding an amused, rapt, and supportive fan base in Chicago's art and music underground.
Sharkula: Diarrhea of a Madman
Gene Siskel Film Center
164 N State St
Chicago, IL
One screening only tonight, Friday, August 13, 2010
at 8:15pm
$10
Here are a few pictures I've shot of Thig over the years...