Longtime Chicago artist
Derek Erdman
is leaving our fair city for parts unknown. Could be Texas, could be the West Coast. Regardless, I'll miss seeing him and his distinctive art around the city. Using a mix of silkscreen and painting, Derek has produced over 4,000 paintings like these...
over his 14 years here in Chicago. I love the Bill Cosby portrait I bought from Derek several years ago. He's also produced many other interesting things including zines, coloring books, rap tapes, a prank call CD, drawings, and more.
Derek Erdman: Without Wax will be Derek's final solo show in Chicago. Part art show and part massive moving sale, I guarantee there'll be something interesting there for everyone. Including free buttons from Busy Beaver Button Co...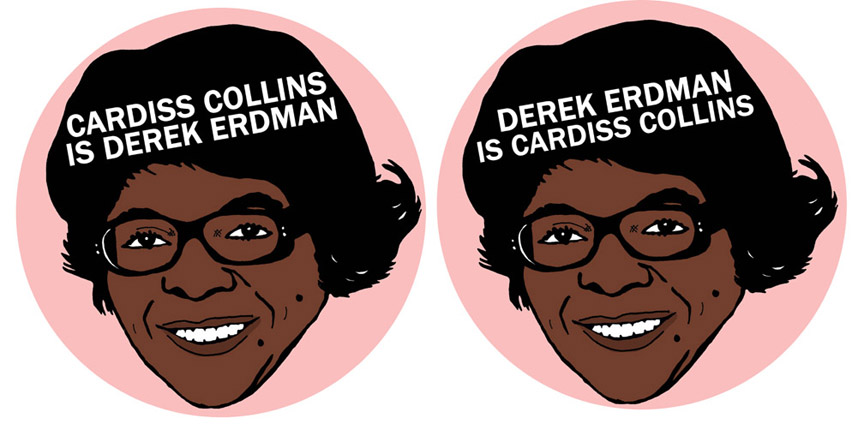 Info from his site...
On display will be every item in the artist's possession that can possibly be sold, including but not limited to: paintings (canvas, glass, wood), drawings, sculptures, CDs, DVDs, records, posters, prints, books, clothing, furniture, and more. Most items will be made by the artist, but many will be from his own personal collection--the value of which is not to be underestimated, as Erdman himself is a notoriously obsessive collector of rare and/or useful memorabilia. Items in the exhibition catalogue, which may be purchased online at the event, will amount in the hundreds with prices ranging from $0.01 to $1000. Opening Night will feature a special presentation of Erdman's collected video works (Rap Master Maurice, Juggalo Documentary Series), collected audio works (Kathy Mcginty & other prank CDs, excerpts from his Advice Masters & Free Psychic Hotline telephone conversations), live DJ sets by Odd Obsession, and hamburgers for everyone. WITHOUT WAX will be a fun, fond farewell to Chicago's most prolific artist of all time.

This exhibition is curated by Angeline Gragasin in collaboration with Derek Erdman.
Click
here
for a preview page of the show.
Saturday, August 14, 2010
The event will be held in Chicago but guests must RSVP to derek@nationalheadquarters.org for location information.
RSVP hotline: (312) 834-4290
Music by the Odd Obsession DJ's