Stones Throw Records
has just released,
Secondhand Sureshots
, a documentary produced by
Dublab
that features four beatmakers from L.A. producing songs from vintage records. The challenge was that each artist was given only $5.00 to purchase 5 records from a thrift store.
You can get a taste of the process that J.Rocc, Daedelus, Nobody, and Ras G went through on this trailer for the film...
dublab presents...SECONDHAND SURESHOTS (preview) from dublab on Vimeo.
The DVD contains over two hours of documentary and bonus footage. The accompanying CD consists of the music produced by the four beatmakers from the thrift store records, as well as a megamix by Kutmah.
Stones Throw has also released a "Deluxe Super Set" of this release which also includes these shnazzy turntable slipmats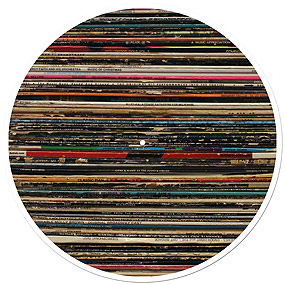 a 12" picture disc instead of the CD, and hand-screened gatefold LP covers printed on vintage record label covers printed by
Hit + Run
.